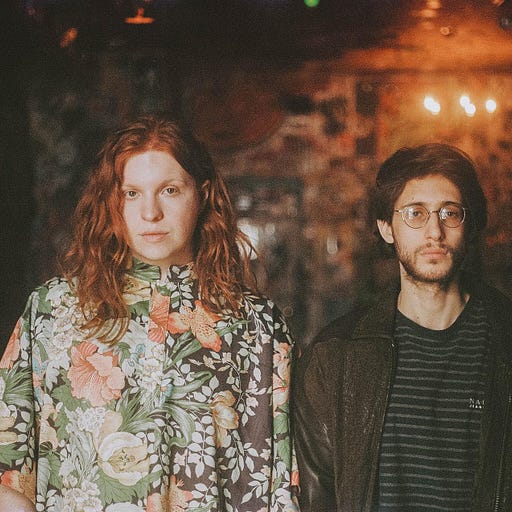 May 18 • 6M
Rubber "Fries & Wings" shares with us those wild and special memories you have with your friends.
Rubber opens our eyes to the importance of human connection that we were all missing for so long.
Above is an audio recording of Rubber sharing the story behind their song "Fries &  Wings" listen above then read some thoughts below.
Rubber creates an intricately balanced soundscape combining their R&B, Funk, Hip-Hop, Jazz, and Soul influences like Frank Ocean, Thundercat, Patrice Rushen, and Amy Winehouse while maintaining that hot-pink, dynamic feeling of pop music, anthemic and universal. The group is a Philly-based, writing-producing duo made up of singer-lyricist, Andrew Loper, and producer/multi-instrumentalist, John Della Franco formed during their time studying at Temple University in 2018.
Rubber recently released a single called "Fries & Wings" and to say that it's not something that I've experienced or can relate to you. I'd be lying. I've had what you'd say some "exciting late nights" out with my friends and also complete strangers. The story behind "Fries & Wings" can be described as "This song is my Mariah Carey slow-groove club anthem" says Andrew (Lead Singer) who counts 'The Emancipation of Mimi' as one of his strongest influences. "We want this song to feel like that moment during a wild night out where you access a sliver of peace when you feel at home in the chaos of a drunken crowd".
When I first heard this song I could totally agree with what Andrew said above. Listening to this song you get the best of both worlds. And by that I mean you can hear and visualize just a group of friends going out and just enjoying themselves and some of them getting drunk and some just there to create memories. But the other side of it is that this song to me talks about how when you are with your friends or with complete strangers at times there is this sense of "feeling at home" with them and you kind of just forget what's around you and just live life.
Believe it or not I've had my share of these special nights with friends and with complete strangers. One of these nights was when I went to Denver to throw a show and it went very well. When the show ended and everyone was leaving I was approached by one of the artists and they were like "Daniel, a few of my friends are going to go out do you want to come?" So, after some deep thinking, I was like "Sure, I'd love to go out" and what proceeded to happen was one of the best nights I've had in awhile. I ended up missing my flight the following morning but I wasn't mad because I got to spend some quality time with these people and I got to create memories that I will hold forever.
I'd say one other thing that I admire what Rubber did was that they created this song at a time the majority of us are still recovering from not being around people including our friends. And that this time we can all now start to experience that human connection and finally be around our friends and strangers in a more authentic way. At the end of the day if you aren't around people then you start to lose the whole reason why humans were put on this earth which is connection.
---
Watch the 'Fries & Wings' Music Video below:
---
Listen to Fries & Wings wherever you stream your music at.
You can follow Rubber on Facebook, Instagram, Twitter, Spotify, YouTube, SoundCloud, Website, and Tik Tok.
---