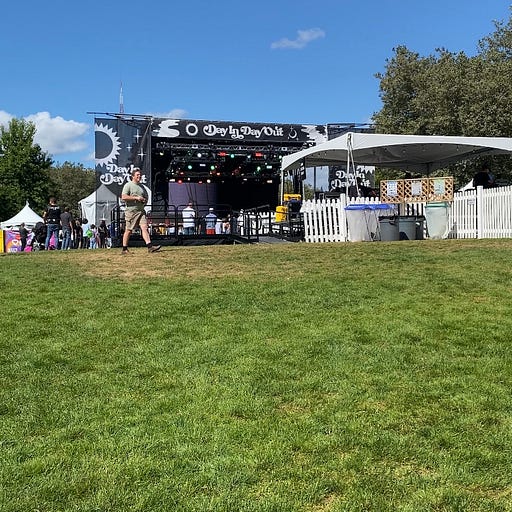 Aug 17 • 9M
Our Thoughts on Day In Day Out Fest Seattle.
Listen or Read our thoughts on Day In Day Out
Listen above to an audio review of Day In Day Out from Daniel.
---
I have to say that there is something special when it comes to going to a music festival that is hard to put in words. But I will try my best to explain that feeling. You see I recently went to Day in Day Out Fest in Seattle and to say that it was just cool would be an understatement. It was an amazing experience. It was definitely something that I needed.
For the last several months I haven't really done much to enjoy myself so when I got the opportunity to go to Day In Day Out I was like I need to go and treat myself. I went on the final day as I wasn't able to go to the other two days. Although I couldn't go on the previous days I had my friends Marian and Yacine who've recently joined TWE go to the other days so they told me that it was a lot of fun and I should come. So, I took them on their word and I got in my car and drove from Kent to Seattle.
I arrived around 5:30 and went through security and just got the last parts of Jamila Woods playing. I really enjoyed Jamila's sound and it isn't my first time listening to Jamila's music.
After Jamila, they're were some Djs so I sat on the grass and listened to them play and was just observing the scene. It was cool to see just people enjoying themselves and everyone was just there for the music. There wasn't any drama or people causing problems it was just a very chill and relaxing Sunday evening.
I think that's what makes these types of festivals like Day In Day Out and others that are pretty low-key that I prefer over the large scale festivals. I feel like when I was at Day In Day Out it felt very personal and I felt like I could really experience music in my own way without feeling judged.
After Jamila Woods played they're were a few DJs playing and then came Animal Collective which was my first time listening to them. I really liked them a lot. I loved their atmospheric and wavey music. When I was listening to them I felt like I was in space. It was really good. Following Animal Collective were some more DJs playing and then was Japanese Breakfast playing. I have to say I really enjoyed Japanese Breakfast. This was my only second time hearing them play but I really loved watching the lead singer perform and how she was able to interact with the crowd. You could really sense the excitement and joy that was coming out from them when they were playing.
I would have to say my final thoughts on Day In Day Out are that this was a much-needed thing for me. I needed to be around live music and just have that moment to decompress and so I thank the team behind Day In and Day out for providing that moment and space not only to me but to others.
---
If you liked what you read then why don't you follow The Wandering Ear where we share more of these types of reviews and content?